3 pimped-up dips for unexpected guests
Got friends coming over for drinks? Tonight? Not ready? Squash that stress. Banish the butterflies. We've mastered the art of the hack like you wouldn't believe (and neither will your guests). A zhoosh here. A pimped-up process there. And, voilà. Zero fuss, 100% payoff.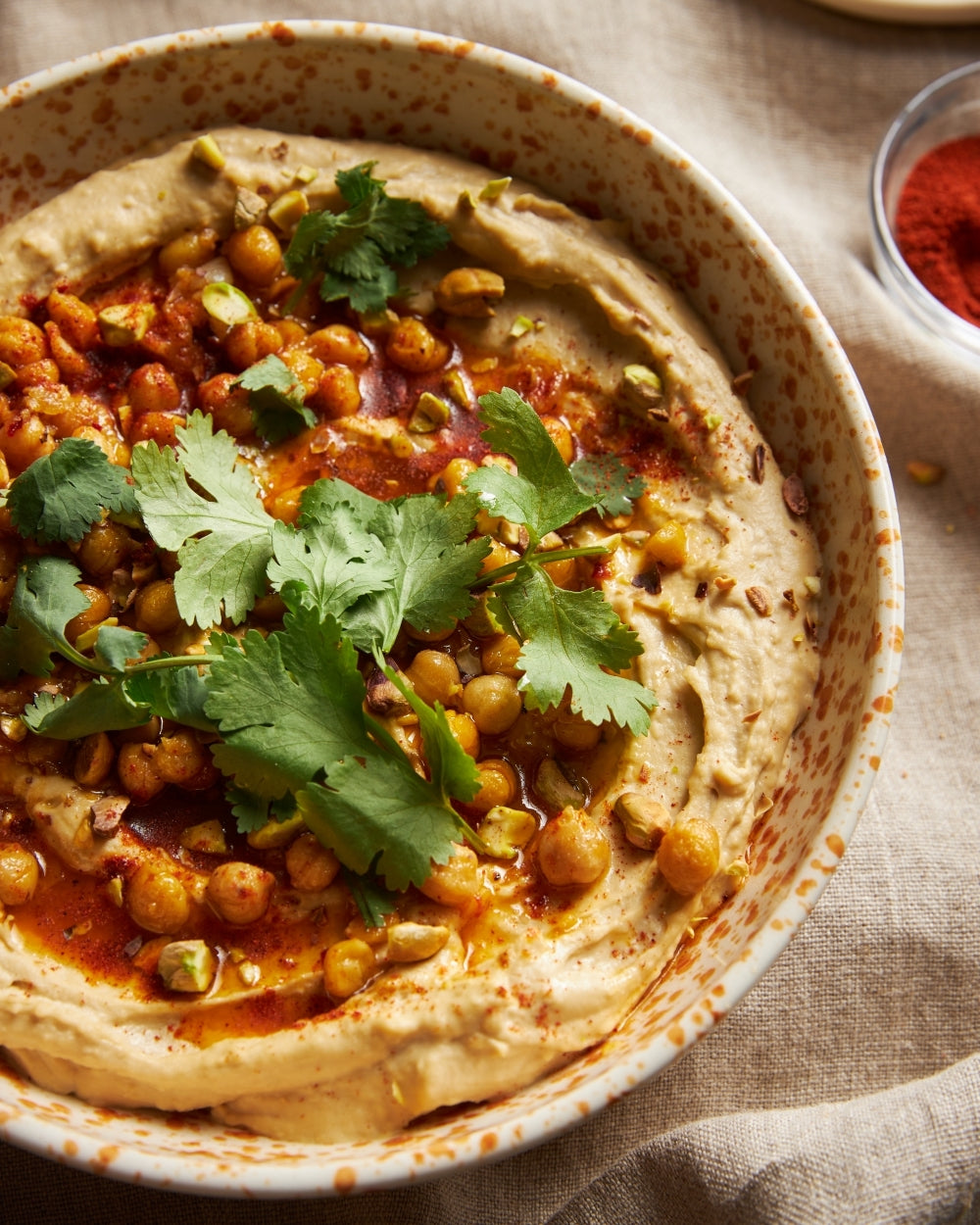 Step 1: Stock up at the supermarket
Want to give your guests a bountiful spread but don't want to spend all night in the kitch? We hear you. We got you. Head to your local deli/grocer/supermarket/purveyor of food goods and grab a selection of crusty breads, crackers, olives, cheese and cured meats. Maybe some grapes because, you know, vitamins. And here's where it gets interesting. We're buying STORE-BOUGHT DIPS. And we're pimping. 

Step 2: It's hip to dip, but better to pimp
Hummus et al are really having a moment, and we're here for it. But zhooshing? That's the secret sauce. Start by levelling up a good, purchased hummus, then the sky's the limit. Maybe you're feeling the pink, in which case you could grate in some peeled, precooked beetroot. Stir it in and you've got a stunning pink dip on your hands (and beetroot juice too. Oops. Wear gloves). Or maybe some cooked, cooled mashed carrot or pumpkin is more your scene. Or some finely chopped cooked spinach and a hit of garlic. Stunning. 
Step 3: Garnish like you mean it
Yep, we're putting it out there: appearances are everything when it comes to your dips. Dressing 'em up is what puts them deep into wow-factor territory. So concentrate on what goes on top, thinking about colours as well as flavours that compliment and make your dip pop. Nuts, nigella seeds, a dash of bright spice, drizzles of olive oil, fresh herb leaves, crumbled feta etc all give that professional edge. Even crumbled chorizo, cooked off in olive oil and scattered, still hot, over a dip like hummus or tzatziki, is sensational. And so easy. 

Step 4: Delicious food needs sexy servers
Bring out your most striking, co-ordinated platters, plates, bowls, serving spoons and glassware for maximum presentation impact. That way, guests will be so busy admiring your great taste in homewares they won't have time to ask you for dip recipes or how long everything took to put together. Sneaky? Sure. But sometimes the art of distraction, along with free-flowing aperitifs, wine and conversation, is the best approach to concealing your hacking habits. And anyway. It's never entirely about the food, is it?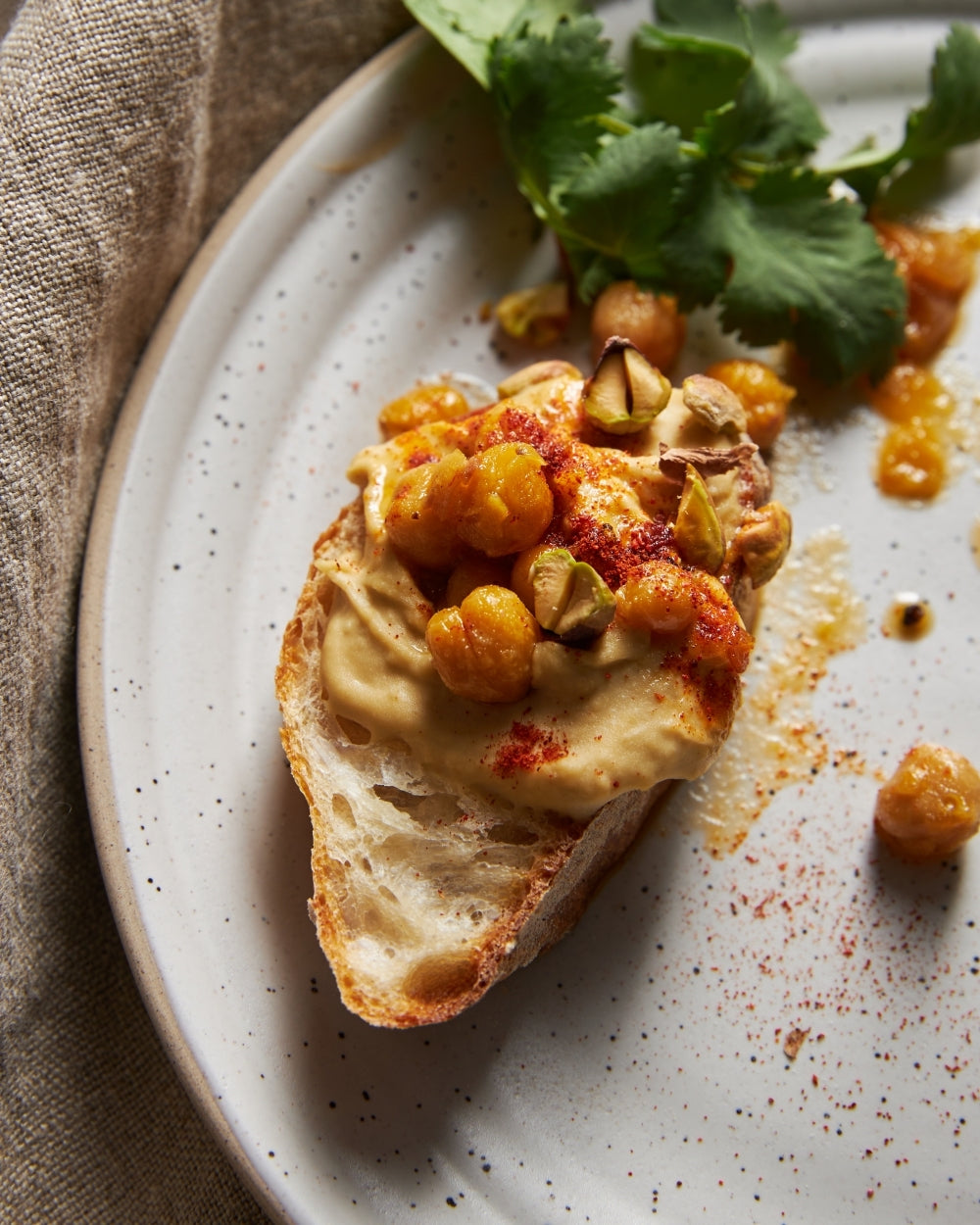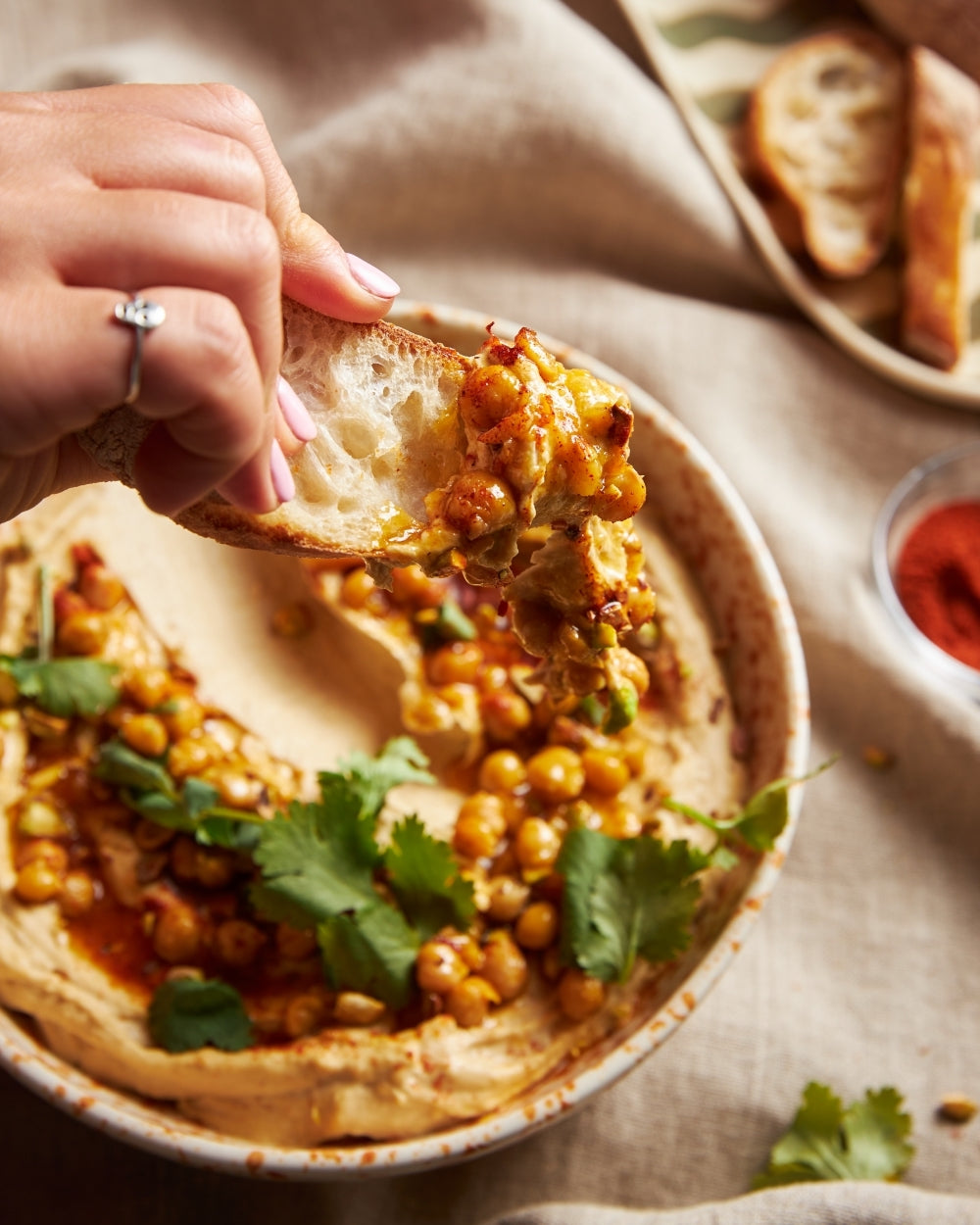 Recipe: Zhoozhed Hummus
Seek out the best brand of hummus you know. Bring 500g of it to room temp. Pile into serving dish. Grab a 400g can chickpeas. Drain. Rinse. Next, heat ⅓ cup extra virgin olive oil over medium heat in a medium-ish frying pan. Chuck in chickpeas. Follow up with 2 cloves of crushed garlic. A good slug of harissa (3-4 tsp, or to taste). Squeeze half a lemon in there. Season. Mix. Heat through. Spoon over your hummus. Scatter with coriander (cilantro) if you're a lover not a hater. Chopped pistachios. A sprinkling of smoked paprika. And done. Serve with breads for dipping. 
Bowl 'em over with these beauts
Stripes, speckles or the whole shebang.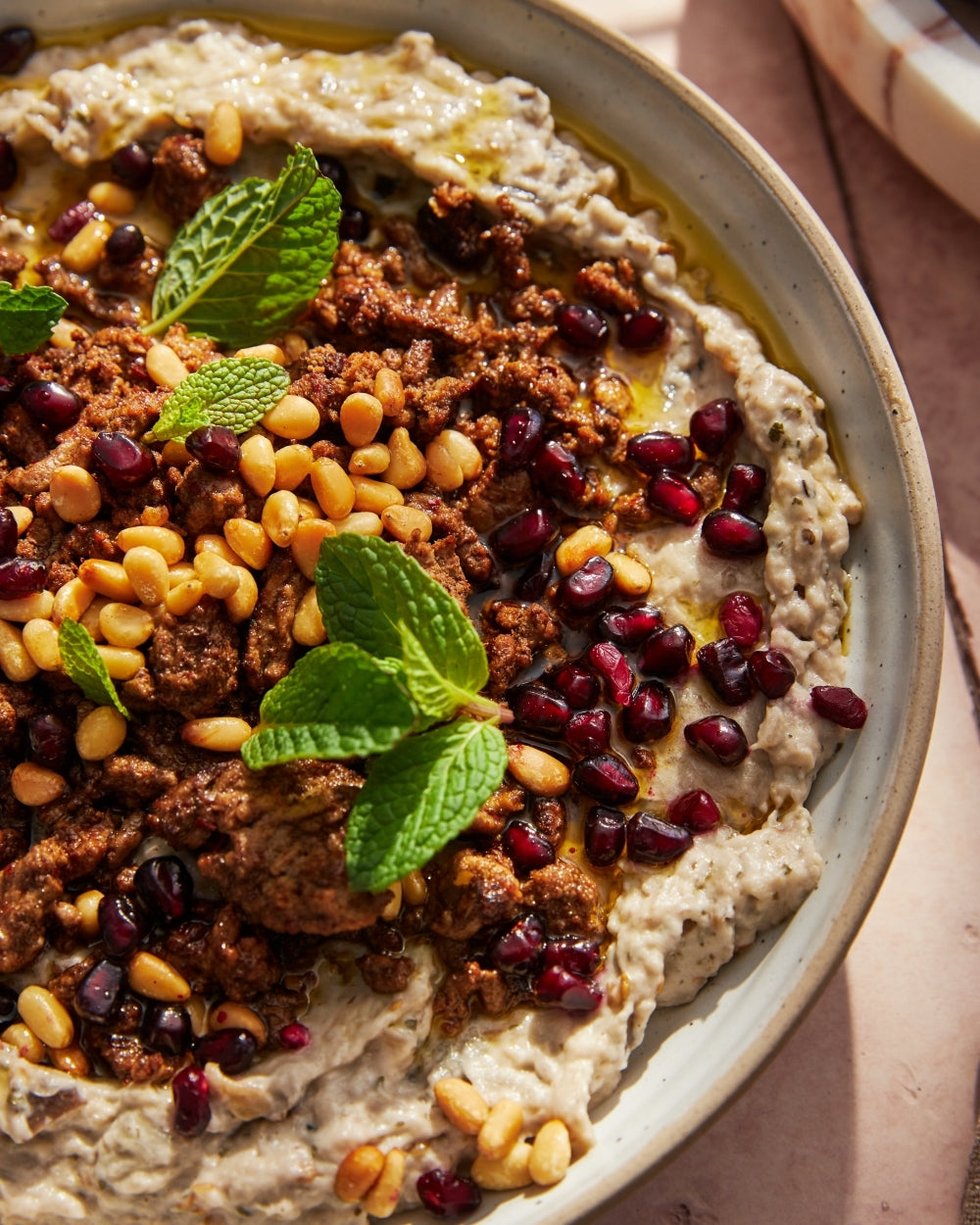 Recipe: Fully-Loaded Eggplant Dip
Take a wok or large frying pan. Crank up heat to high. Get pan scary hot. Add in 1 tbsp olive oil. 300g lamb or beef mince. Spread meat out into even layer. Then LEAVE IT ALONE. For about 5 mins. You want char. You want caramelisation. You want it to smell like burgers. Flip. Sear. Cook until golden and a bit crispy. Turn off heat. Now it's spice time. Stir in 1 tsp each of ground cumin. Dried chilli flakes. Smoked paprika. Chuck in ¼ tsp ground allspice. Taste it. Season it. Scoop 750g baba ganoush into a bowl. Scatter with meat mixture. Some toasted pine nuts. Seeds from half a pomegranate. Mint leaves. Stand back and admire your work. Now get stuck in.
Served with flair
Simple pieces to add style to your snack session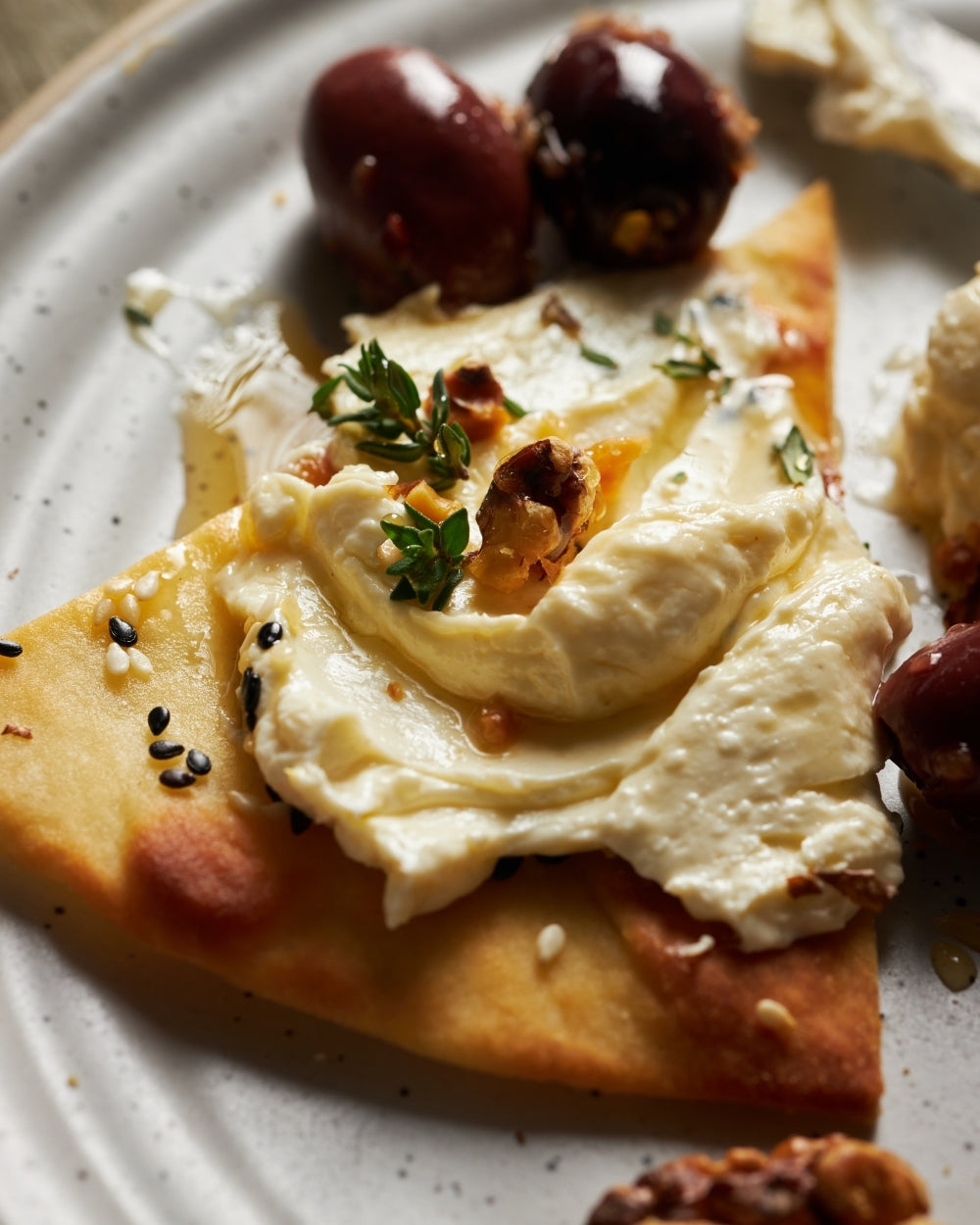 Recipe: Epic Whipped Feta
Set up food processor. Crumble in 100g cream cheese. Whack in 200g Danish-style feta. Slosh in 2 tbsp extra virgin olive oil. Add 1 tsp finely grated lemon zest. Squoosh in 3 tsp lemon juice. Chuck in 2 cloves crushed garlic. Whizz until silky smooth. Season. Taste. More lemon juice? You do you. Pile into a bowl. Smash up some toasted walnuts. Adorn your dip with them. Take it to fancy heights with fresh thyme sprigs. A drizz of honey. Job done.

Sesame Pita Crisps
Grab 3-4 pita breads. Take knife. Cut bread into wedges. Spread on oven tray.  Glug over some olive oil. A smattering of sesame seeds. Bake in a 180°C (350°F) oven for around 20 minutes, or until they're good and golden and crisp.
Set it up right
Marble pieces that do the heavy lifting for you