The top five tips for hosting the BEST party
You know me. I'm all about the food, I'm all about the recipes and I'm definitely all about the eating. You see me in action at the stove and know I love cooking, but what you maybe don't realise is that I really, really like to entertain, too. For me, it's the other side of the cooking coin – what's the point of making amazing food if the vibe isn't right and the table doesn't look amazing? Here are my no-brainer tips to consider before you get your pals around.
1. Choose your main and the work is pretty much done
Well, maybe that's a stretch. But honestly, deciding if you're going to serve an individually plated beef stir-fry with some rice, a ultra-luxurious pasta, or a roast duck dished up family-style with some amazing side dishes in big bowls, should be your first decision and helps everything else fall into place. The main dish helps dictate all your other decisions, like drinks, snacks, and even soundtrack.
2. Can we talk about arrival drinks, Cocktail Queen?
You know when you arrive at a party, the host is frantic in the kitchen and no one is circulating with drinks? Annoying. I hate this. So if I know I'm going to be busy when people arrive, my workaround is to set up a drinks station where they can help themselves. I make sure it looks amazing so everyone's drawn to it. And the good news? It takes hardly any effort to pull together.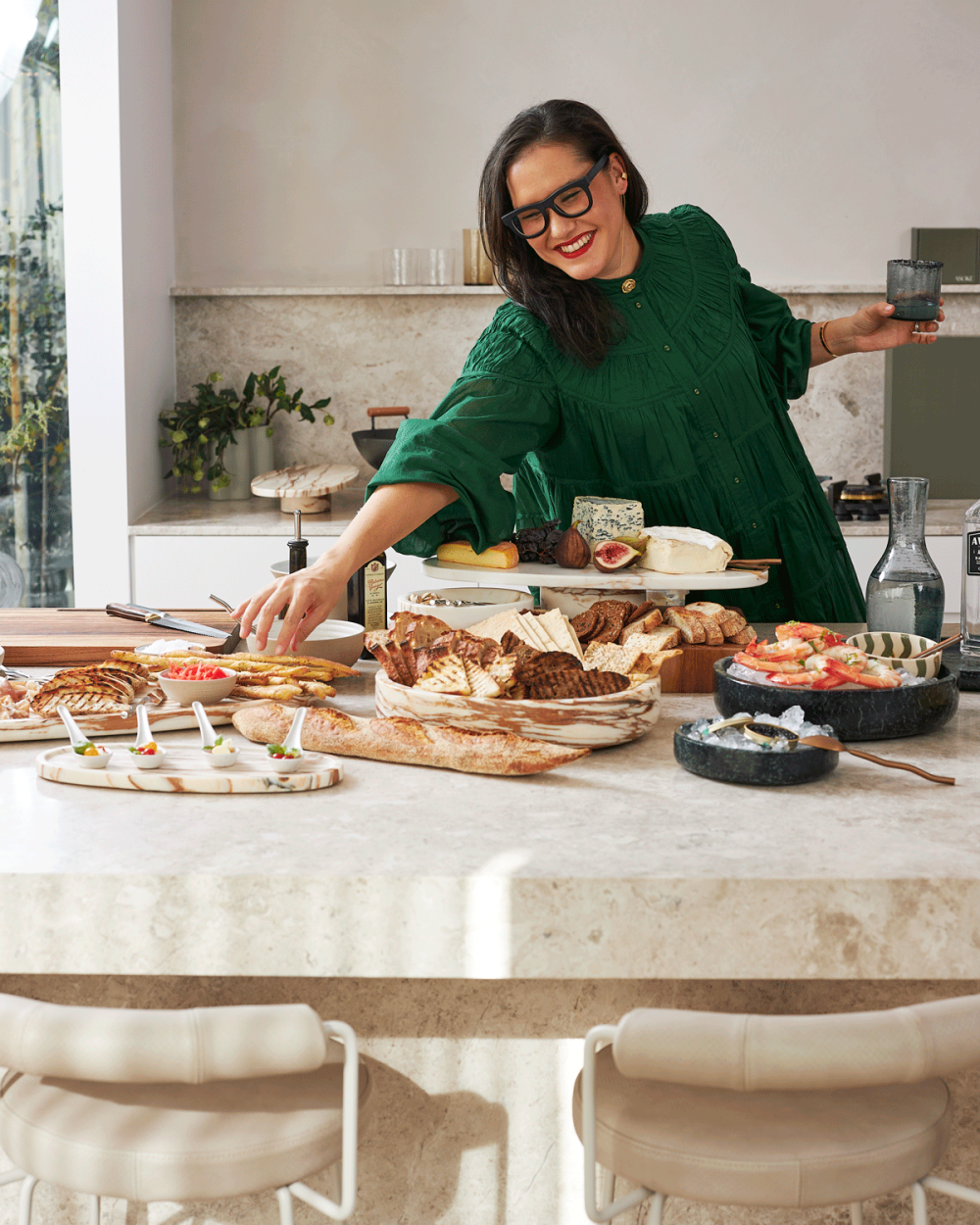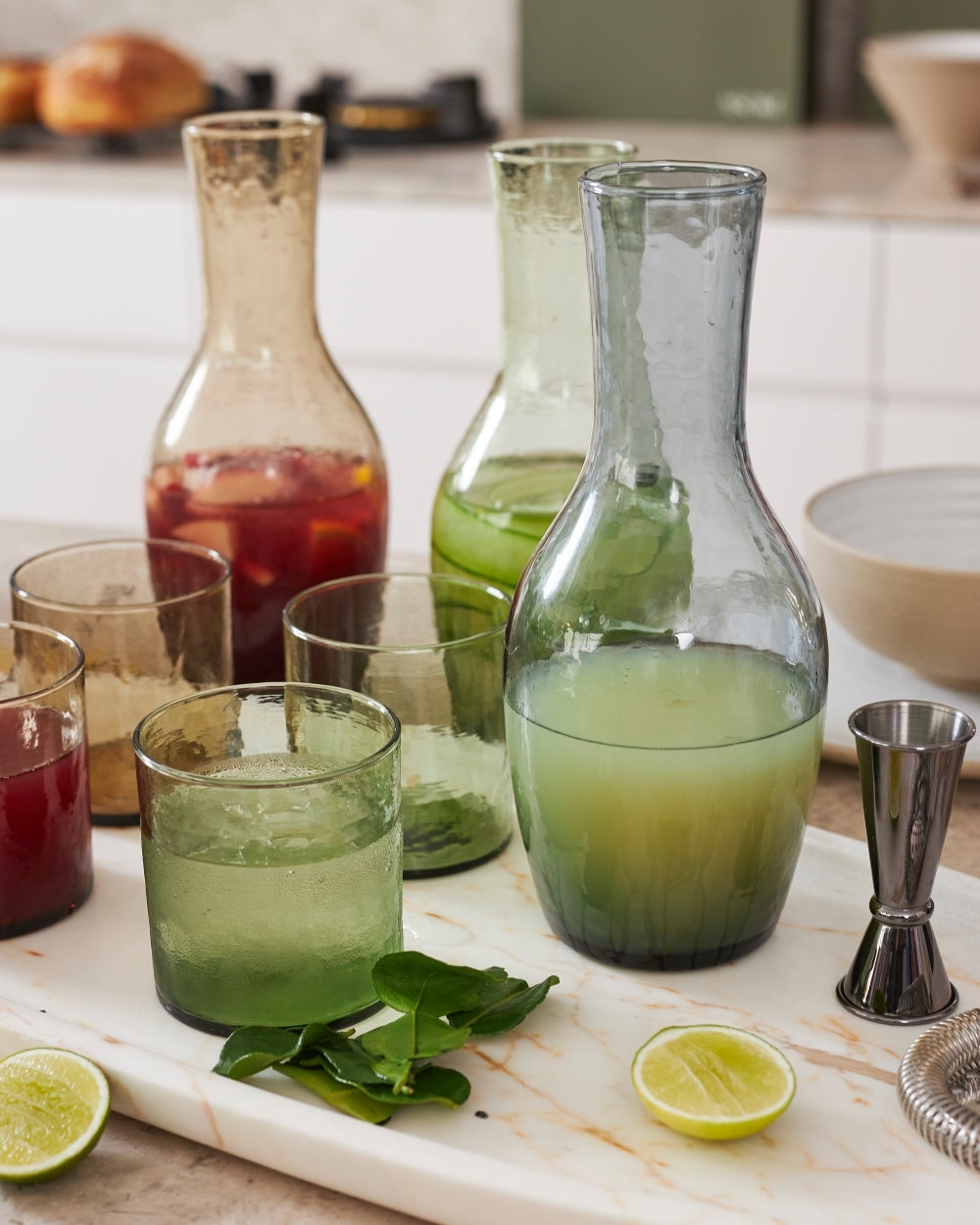 Sometimes I opt for a gin and tonic station with all the mixers and garnishes people might want as a classic yet sophisticated option. Otherwise, I'll simply line trays with plenty of beautiful glassware, fill a large ice bucket and stack it with beverage options so everyone can get their own, and have large jugs or carafes of pre-prepped cocktails ready to pour. These make a colourful statement, plus they're a pain-free way to offer mixed drinks without anyone having to play mixologist.
Create your own cocktail station
Cocktail carafes = your glamorous entertaining hack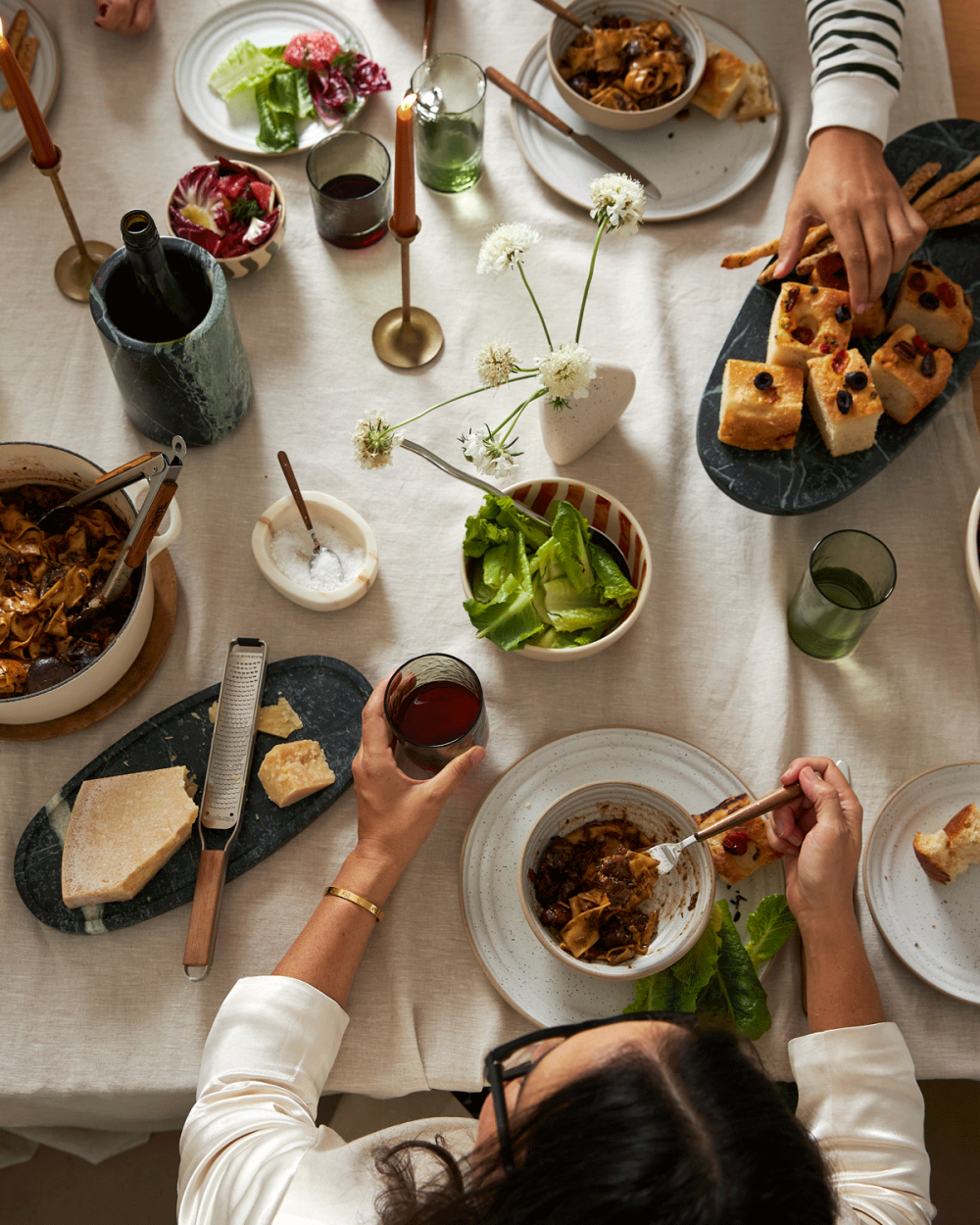 3. How to get a beautifully set table
I realise this goes without saying, but you want to set a stunning table when hosting a dinner party. All those beautiful homewares you use are as important as the food you put on them; everything should work together to create gorgeousness, set the mood and make guests feel spesh. 
Here's how I think about it: an eclectic, but co-ordinated, mix of shapes, tones and textures. I don't love a totally uniform look as I find this a bit too formal and l like things 'looser'. So I might combine marble accents with slightly rustic platters and hand-hammered glassware; this creates a dynamic, generous kind of overall effect. I also find different heights on the table really adds to that feeling of abundance so I throw together flat platters, raised plates and footed bowls for a show-stopping, multi-height impact – nothing too dramatic though as you still want everyone to see each other when they're seated.
Mix and match for the tablescape
Beautiful homewares make all the difference when hosting
4. Kick things off with amazing, but simple, starters
Or snacks. Or whatever you want to call them. Either way, I don't get too hung up on menu terminology because it can sound stuffy. I theme the first part of the menu around, maybe, a selection of seafood with accompaniments; seafood always makes an occasion feel gala so I'll go for this if I really want to make a major splash.
Otherwise I like serving a selection of lovely cheeses with fruit pastes, fruits, pickles, olives, breads and crackers, choosing whole cheeses if possible as they always look lavish and generous. Especially when you place them on lovely, roomy plates and platters. Or maybe I'll create a bruschetta bar, where guests can DIY from a range of vibrant toppings arranged on platters. It always looks amazing and gets everyone mixing and chatting, setting the right, relaxed tone.
5. Finesse with all the essential bits and pieces!
Candlesticks, flowers, music, lovely napery, beautiful cutlery and flatware, coasters, the right wines, a centrepiece for the table, servers, finger bowls… these all add to the overall atmosphere and sense of being a thoughtful host. Maybe you want a more fun, funky vibe, or one that's sleeker and understated; it all depends on your own taste, the food and the occasion. But everything should work together to support the mood you have in mind so don't overlook all the little details in your planning. Now go forth and entertain…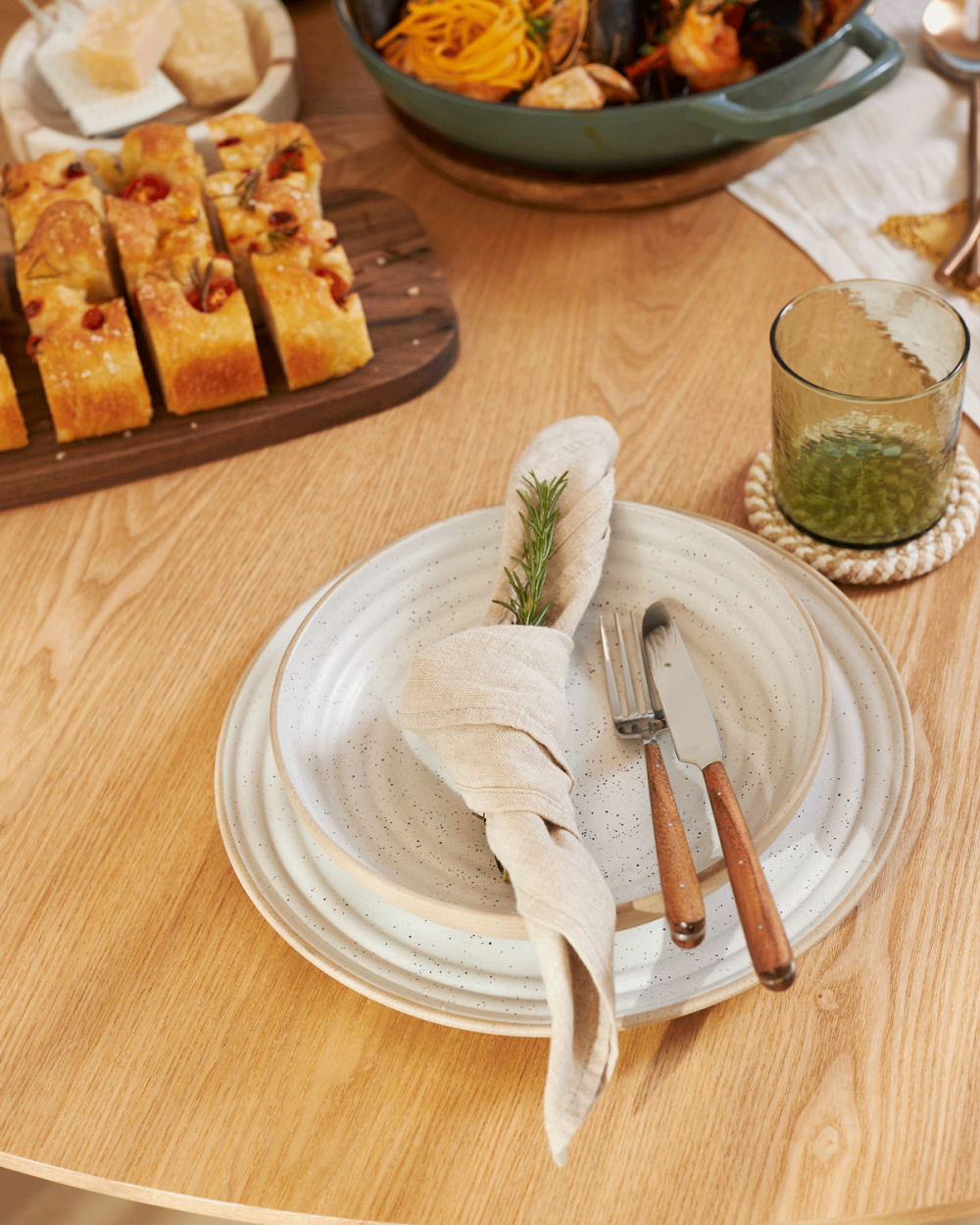 The go-to sets for incredible hosting
Choose your own adventure, you fabulous thing!